Blockchain Overview – Collaboration In a Trusted Manner
Blockchain Overview is a post on how blockchain empowers businesses to collaborate with each other in a trusted manner.
For centuries businesses collaborated with each other. They used ledgers to record the financial transactions, assets, owners' equity, liabilities, revenues and expenses. An alternative to this system is Blockchain where the flow of goods and services are recorded in a ledger. It is one ledger that is distributed and shared, in real-time, among all involved parties.
Feel free to visit www.cafesami.com to read this and my others posts.
About the Author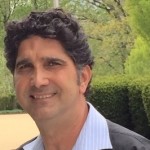 Sami Joueidi holds a Masters degree in Electrical Engineering. He is currently residing in South Florida and working for a fortune 500 company as the Cloud and Cognitive leader & Chief Architect for the Federal business unit. He is also the Blockchain leader for the division. His role is to guide customers on adapting the appropriate cloud strategy for their enterprises. He also guides them on how to incorporate cognitive capabilities and leverage the latest technology trends to innovate.